Lær å danse!
_ Dancing is good for you mentally, it is good for you physically, and it is good for you socially!
_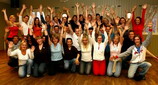 * Gruppe undervisning
* Personlig Danse Treining
* Bryllups dans
* Koreografi

Salsa
Argentinsk Tango
Bryllpsdans
Flamenco
Latin
Afrikansk
Swing
Yoga
Pilates...
Danse Underholdning
_ Trenger du litt krydder til festen? Vi har opptrått for store selskaper som Lancel fra Paris, Sony Corporation, Mercedes Benz, til små private fester som utdrikningslag, bryllup, jule- bord, seminarer etc.
• Gi gjestene dine en god latter og la dem ha det morro mens de blir bedre kjent med hverandre! Vi kan tilby et artig stunt-kurs som varer f.eks 10 minutter, så spiller vi musikk og alle kan danse på festen din!
• Gi gjestene dine en profesjonell danseoppvisning som de vil huske. (F.esk rumba, Chachacha, Argentinsk Tango, Salsa, Mambo, Flamenco)
Ta kontakt og be gjerne om et gratis eksepmlar av vår Promo-DVD!
,

Argentine Tango, Flamenco, Salsa, Chacha, Rumba, Mambo.
contact us for more information
Noen danseoppvisninger med Erik og Consuela

Mambo, Beijing 2008

Salsa, Fauske 2012

(1st place)

Bachata, Fauske 2012 (1st place)

Salsa Lessons Austin, Adult Dance Classes, Latin Dance Austin, Learn Salsa Austin

Mambo, Trondheim 2009

Salsa/Jive, våre elever, Tromsø 2011

Arg. Tango, våre elever, Tromsø 2011

Lyrical Mambo, Oslo April 2012

Dans Salsa Tango i Tromsø

Copyright 2012 DanceLife.no. All Rights Reserved.