Lær å danse!
_
_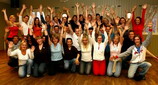 Dancing is the best way to enjoy music and to share this with somebody is amazing!

"We enjoy teaching and sharing our love of dance with our students.

To become a great dancer you need to find the combination of a great dancer and a great teacher with the technical knowledge who can make any class a fun, and exciting experience for everybody.

Salsa Lessons Austin, Adult Dance Classes, Latin Dance Austin, Learn Salsa Austin

We are here to provide YOU with all you need to see dancing as a logic combination of a few easy techniques that you can master in a short ammount of time.

Learning dance is a thrill, and the sooner you learn the sooner you will be able to dance with anybody."

-Erik & Consuela

---

Erik og Consuela er to av norges mest erfarne salsainstruktører. Duoen har underviset og sertifisert danseinstruktører for Norges Danseforbund siden 2005. De er kjent for å ha skapt det store salsamiljøet i Tromsø. De har skapt flere danseteam som har holdt oppvisninger på store internasjonale dansefestivaler.

Paret har kvalifisert seg til Salsa VM tre ganger, med topp ti plassering i Puerto Rico World Open som beste resultat. I 2007-2009 jobbet de som profesjonelle dansere, koreografer og instruktører i kina.

De to danser mange forskjellige dansestiler: Salsa/Mambo, Argentinsk Tango, Swing, Africansk, Street Jazz, standard og latin selskapsdanser. De underviser også Danseakrobatikk, Zumba, Yoga, Pilates og dance fitness. De har undervist og holdt oppvisninger ved mange internasjonale sammenhenger som i Los Angeles, Puerto Rico, Kina, Taiwan, Vietnam, Sverige, Warzaw Polen, Chez Republic, Finland, Tyskland, Philadelphia USA, Tyrkia, etc.

Their training include:




The couple have represented Norway on numerous occasions performing at the International Salsa Congresses in many cities around the world. They have taught and performed at events/congresses such as in Los Angeles, Puerto Rico, China, Taiwan, Sweden, Warzaw Poland, Chez Republic, Finland, Philadelphia USA, etc. They have performed at several events in New York City, such as famous Club Cache on Times Square.

Photo: Qualifying rounds, World Salsa Championship, Puerto Rico 2006

They found each other on the dance floor in 2002 at the world Salsa Congress in Los Angeles. They married in 2003, moved to Norway and started teaching together. The dynamic duo is known as creators of the salsa scene in the city of Tromsø, Norway .

Photo: 4th Beijing international Latin American Ballroom Competition, China 2008


In 2006 They started to teach, perform and compete internationally. In 2007 Dance became the main profession for both of them when Erik left his academic carreer as university professor of economics.

Photo: Semi finals, World Salsa Championship, Puerto Rico 2006

- Consuela was born in Mexico and grew up in USA. Before she moved from USA to Norway in 2003, she was a salsa performer and instructor. She was a member of Salvaje Dance Company in Arizona. Consuela is a talented and trained dancer. She started studying dance in highschol in 1993 and performed ballet and Mexican folklore for 4 years. She later recieved formal dance training from college in Oregon, where she studied ballet, jazz and hip hop. She is by many considered the best female salsa dancer in Norway. Since 2003 she has devoted 100 % of her time to learning and teaching dance.

- Erik from Norway also has his dance background from USA.
However, he had absolutely no dance background before he got involved in salsa. With no talent for dance, but a strong will to learn, Erik has worked very hard to become a very trained and educated dancer . He has great understanding of what the dancer is doing, how to learn it and how to teach it. Using many years experience as a professor of economics at the univeristy, Erik is known for his ability to teach dance in a fun, easy and inspiring way. In January 2007 he jumped off his academic career to become a full time dancer.


| | |
| --- | --- |
| | |

| | | | |
| --- | --- | --- | --- |
| | Portland 2007 | London 2005 | |

Warzaw, Poland Nov 2006





Check out pictures from their popular classes in Tromsø here

more videos

can't see the slide? Please reload the page

(press F5)

---

Click to see video

Copyright 2012 DanceLife.no. All Rights Reserved.

Dans Salsa Tango i Tromsø

Copyright 2012 DanceLife.no. All Rights Reserved.